The final performance is over, the set has been dismantled and calm arrives back to Turvey Village hall after another tremendously successful TATS show. Playing to capacity audiences, this time they set their sights at 'The Vicar of Dibley', a comedy based on the popular 1990s TV sitcom starring Dawn French.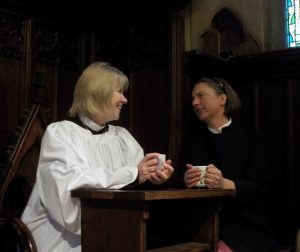 Audience reaction is the best way to gauge success and there have been many many plaudits from the packed houses this week many of whom say they laughed til they cried, whilst others described the quality of characterisation from the TV show from the whole cast as simply stunning.
This TATS production was directed by Deborah Evans.
What's next? click here