MUSICAL


24th to 27th November 2022


OKLAHOMA.
We are pleased to announce that we have now cast the show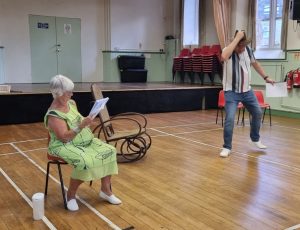 Rehearsals have started and the picture to the left shows us setting the first scene, with Rosemary Gentry as Aunt Eller and Spencer Barlow as Curly.
We are thrilled that our cast welcomes some new faces to the TATS stage and we think we can promise our audiences a superb evening's entertainment come November. Keep checking back for details of ticket sales so you don't miss out

Congratulations to all our successful cast.