All about TATS
Turvey Amateur Theatrical Society
Turvey Amateur Theatrical Society – affectionately known as TATS,  hope you find what you're looking for – but please bear with us as it's a work in progress!
TATS staged its first production in 1979 and has now presented well over 100 shows covering a wide range of theatrical genres, from revues and pantomimes to comedies and classic dramas to whodunnits and big musicals.
Our productions have raised thousands of pounds for charity over the years, including Cancer Research, the British Heart Foundation, Willen Hospice, Help for Heroes, Leukaemia & Lymphoma Research and St John's Hospice.
We always welcome new members so if you would like to be involved with your local am-dram group, either on stage or behind the scenes and whether you're eight or 80, please get in touch by calling our membership secretary Rosemary Gentry on 01234 881637.
Follow us on Facebook for regular updates. Just click the link below

TATS Entertainment…
Archive Content from the original TATS Website…to be updated soon…
Turvey Amateur Theatrical Society

Turvey Amateur Theatrical Society celebrated its 25th anniversary in 2004 with a packed programme of entertainment for all ages.
The silver jubilee started in style with Nostalgia, a selection of favourite songs and sketches from across the years. The review, performed at the Village Hall towards the end of 2003, featured current members alongside some of TATS' former "stars", who returned to help the show go with a swing.
The company, which staged its first production – the pantomime Dick Whittington – back in 1979, put on another traditional panto, Cinderella, in the February of the anniversary year.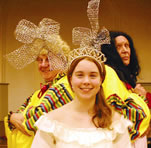 This version of the classic fairy tale was written specially for TATS by top television writer Brian Clemens, of Avengers and Professionals fame. Brian is married to committee member Jan Clemens, who has produced and directed several musicals for TATS as well as appearing in shows such as Annie (Miss Hannigan) and Snow White (the wicked Queen) in Turvey.
One of the highlights of the year was a summer ball at the Village Hall in June – just days after a production of The Gut Girls. The silver jubilee year was rounded off with the spectacular musical Scrooge in November.
The inspiration for a theatrical society in Turvey came in the mid 1970s when several people, notably Gordon Elliott, wanted to put on a village pantomime. A handful of people were involved in other dramatic societies, such as the Bedford Marionettes, and in 1978 an initial meeting was held in the Boys Club Room to discuss the viability of a society or, at least putting on a panto.
A leading light in this movement was Penny Green, who is generally regarded as the founder of TATS – and who returned to Turvey for the silver jubilee ball!.
Long-time member John Murray recalls: "The response at that first meeting was strong both in terms of numbers and enthusiasm, certainly enough to justify proceeding with a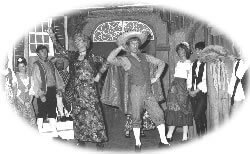 pantomime to be staged in January, 1979."
Jacqui Newman, a Turvey member of The Marionettes, persuaded Tony Rose to produce Dick Whittington and, as they say, the show was on the road!
Scenery for that first production was built from scratch in the icy Chantry House barn while rehearsals went ahead – as today – in the Village Hall and the Manor Rooms. Lighting was largely borrowed and erected on temporary scaffolding, the stage was even smaller than it is today.
Nevertheless, thanks to a lot of enthusiasm, hard work and, of course, local talent, several memorable performances were staged – even though heavy snow made the traditional TATS dash from the Boys' Club 'changing room' to the stage a feat of endurance!
"No doubt, by the high standards TATS has achieved in the meantime, this perhaps wasn't the best show, but nostalgia is a wonderful thing," said John.
Some of the cast of that original show are still involved, including Rosemary Gentry, Heather Claridge and John Murray. And, of course, the children of some of those early members became the next generation of TATS, including Peter Gentry, Joe Swidenbank, Vanessa Elliott and James Underwood.
The panto theme was repeated two or three times over the next few years, interspersed with plays – usually farces – and musicals. Memorable among those early shows were Annie Get Your Gun and No, No Nanette – a fine musical tradition which continues to this day.
There were also some memorable Old Time Musical Halls, usually MC'd by early TATS stalwart Keith Homer. And some of the shows were even considered good enough to "go on tour", with Haebus Corpus being performed in Bletchley and Milton Keynes and a music hall put on in Lavendon.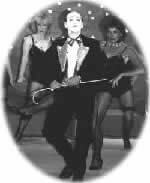 TATS achieved what some still regard as its greatest triumph in 1986 when it became the first amateur group to produce Blood Brothers. Other highlights of the 1980s included Grease, Cabaret and Accrington Pals.
The ability to stage these ambitious shows was made possible by an influx of new talent to the society, both as performers and directors, including Sarah Swidenbank (and family), Glynis Hopkins (now Northwood) and Rob Puckett.
TATS kept up this momentum throughout the 1990s, producing about three shows each year, including musicals such as Oliver, My Fair Lady, South Pacific and Fiddler on the Roof, and attracting more new talent from the Bedford societies, notably Jan Clemens, both as a performer and director, along with Jimmy Brown, Mark Rycraft and Tracy Butler.
The spectacular musical Oklahoma! brought TATS into the new millennium and set the standard for future productions, which so far have included The Sound of Music, Annie, The Music Man and Blithe Spirit.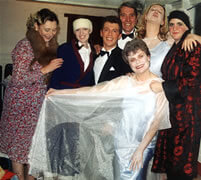 As well as a host of talented performers, the society has been fortunate over the years in its backstage support; the people who rarely bask in the limelight but are nonetheless vital to TATS' success, from scene painters to stage managers, the lighting and sound men (and women) and the front of house teams.
Musical direction has remained in the hands of only a few people; initially Alan Haughton and now, for many years, Andy Stewart, ably supported by Dave French.
Over the past few years, the society has been able to invest in new assets such as lighting, staging and storage facilities and continues to do so.
Although the TATS story is largely a happy one, the society has inevitably had its share of sadness, too, through the loss of enthusiastic members such as Mike O'Brien, Sue Watts, Peter Johns, Keith Homer and Gordon Elliott. It is down to their dedication in the early days that TATS has become the society it is today.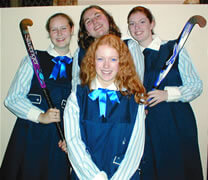 Many of the more recent productions have featured the society's youngest members – TATS Youth as they are known – including The Sound of Music, Annie and Daisy Pulls It Off.
These shows were a great success and reflect the youngsters' enthusiasm and talent, but the society needs more adult members, too, both in performing and backstage roles. There is a particular gap for male performers and '20 and 30-somethings', as well as volunteers to help with 'manual' work and front of house duties.