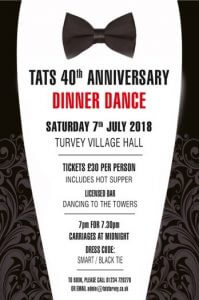 The TATS 40th Anniversary Ball
took place on a balmy Turvey evening on 7th July 2018

Organised by long-standing member, Penny Murray, over 80 current, previous and founder members and guests packed the village hall to celebrate the event.

A fantastic evening was had by all with music and dancing to the fantastic band DEXETER and super food provided by CAST IRON CATERING.
Just a few of the pictures can be seen below, with a full album due online soon, so keep checking back and watch this space.
if you really can't wait then check out our facebook pictures